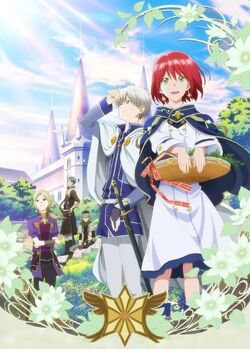 Akagami no Shirayukihime (Snow White with the Red Hair) is an anime adaption of the Akagami no Shirayukihime manga series. It was released starting in July 2015, completing a first season and second season with a total of 24 episodes and 1 OVA. The last episode aired on March 28th, 2016.
Funimation licensed the subbed version which is released via simulcast at the same time as each new episode in Japan. Funimation also dubbed the series into English which is also ongoing.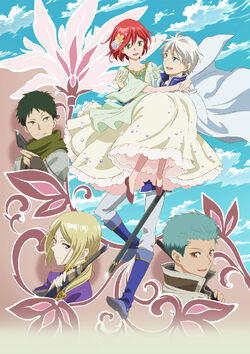 Although her name means "snow white", Shirayuki is a cheerful, red-haired girl living in the country of Tanbarun. She works diligently as a pharmacist at her herbal shop. Her life changes drastically when she is noticed by the entitled prince of Tanbarun, Prince Raji, because of her rare red hair. He tries to force her to become his concubine.
Unwilling to give up her freedom, Shirayuki cuts her long red hair, leaving it as a souvenir for the prince, and escapes into the forest of the neighboring country of Clarines. After being found by the Raji, she is rescued by Zen Wistaria, the second prince of a Clarines, and his two aides. Hoping to repay her debt to the trio someday, Shirayuki sets her sights on pursuing a career as a royal court pharmacist in Zen's country.
Akagami no Shirayuki-hime depicts Shirayuki's journey toward a new life at the royal palace of Clarines, as well as Zen's endeavor to become a prince worthy of his title. As loyal friendships are forged and deadly enemies formed, Shirayuki and Zen slowly learn to support each other as they walk their own paths.
Community content is available under
CC-BY-SA
unless otherwise noted.