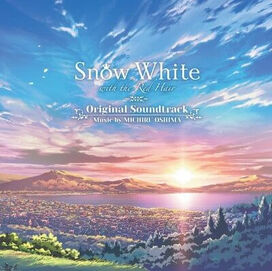 The Music in Akagami no Shirayuki-hime includes all of the openings and endings, as well as all of the insert songs in the anime itself.
To watch the videos, visit Openings & Endings. For more information on the songs, click on the titles.
Soundtrack
Edit
The First Season Original Soundtrack (OST) was released in March 23rd, 2016 and contains two discs.
#
Song Title
Artist
Disk
1
Shirayuki Sono Seihitsutaru Sugata
Ooshima Michiru
1
2
Fureai
Ooshima Michiru
1
3
Shirayuki Sono Tabidachi
Ooshima Michiru
1
4
Deai Joshou
Ooshima Michiru
1
5
Ippari Tsuyoki
Ooshima Michiru
1
6
Wakai Futari no Hajimari
Ooshima Michiru
1
7
Deai Unmei no Ichinichi
Ooshima Michiru
1
8
Fuan
Ooshima Michiru
1
9
Wana
Ooshima Michiru
1
10
Clarines no Ouji
Ooshima Michiru
1
11
Shitashiki Sokkin Tachi
Ooshima Michiru
1
12
Mihaya
Ooshima Michiru
1
13
Sawayaka na Asa
Ooshima Michiru
1
14
Obi
Ooshima Michiru
1
15
Sekimu
Ooshima Michiru
1
16
Ryuu
Ooshima Michiru
1
17
Deai Ichinichime no Owari
Ooshima Michiru
1
18
Nazo no Yamai
Ooshima Michiru
1
19
Kakehiki
Ooshima Michiru
1
20
Narenai Mainichi
Ooshima Michiru
1
21
Izana
Ooshima Michiru
1
22
Sentaku
Ooshima Michiru
1
23
Raj no Henka
Ooshima Michiru
1
24
Kyuuchi
Ooshima Michiru
1
25
Shirayuki Sono Shinshi na Shisei
Ooshima Michiru
1
26
Deisui
Ooshima Michiru
1
27
Mibun no Kabe
Ooshima Michiru
1
28
Bougai
Ooshima Michiru
1
29
Atri no Shi
Ooshima Michiru
1
30
Yoru no Tobari
Ooshima Michiru
1
31
Deai Tagai wo Motume Au Kimochi
Ooshima Michiru
1
32
Kiharu
Ooshima Michiru
1
33
Shirayuki Mae wo Mukou!
Ooshima Michiru
1
34
Deai Futari no Kiss
Ooshima Michiru
1
35
Keikai
Ooshima Michiru
2
36
Nintai
Ooshima Michiru
2
37
Sangokuichi no Baka Ouji
Ooshima Michiru
2
38
Akui
Ooshima Michiru
2
39
Nijuu Yuukai
Ooshima Michiru
2
40
Dai Kessen
Ooshima Michiru
2
41
Ouji no Kakugo
Ooshima Michiru
2
42
Raj no Violin Yuuai
Ooshima Michiru
2
43
Yoki Omoi de Yoki Nakama
Ooshima Michiru
2
44
Shirayuki no Saichou Zen no

Gawa no Tatsu Koto no Tassei

Ooshima Michiru
2